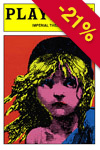 Les Miserables - Broadway
Imperial Theatre
Price from $ 137.40
Limited offer for Tuesday performances: Save now 21% on your tickets

Don't miss Cameron Mackintosh's legendary production of Boublil and Schönberg's Les Misérables on Broadway! The iconic musical has been seen by more than 70 million people in 43 countries and in 22 languages around the world and it is still breaking box-office records everywhere.

Highlights:
- Ensure your tickets to this world-famous musical
- Get the best available seats within your chosen category
- Experience the musical classic with the iconic music

What is Les Misérables about?
Ex-convict Jean Valjean is hunted for decades by the ruthless policeman Javert after he breaks parole. When Valjean agrees to care for factory worker Fantine's young daughter, Cosette, their lives change forever.

Cameron Mackintosh presents a brand new production of Boublil & Schonberg's legendary musical, Les Misérables, with glorious new staging and dazzlingly reimagined scenery inspired by the paintings of Victor Hugo.

Based on Victor Hugo's classic novel, Les Misérables is an epic and uplifting story about the survival of the human spirit. The magnificent score of Les Misérables includes the classic songs 'I Dreamed a Dream', 'On My Own', 'Stars', 'Bring Him Home' and many more.

The New York Times calls this Les Misérables "an unquestionably spectacular production from start to finish."

Did you know this about Les Misérables?
Les Misérables has won over 100 major awards, including Oliviers, Tonys and Grammys!

How do I get my tickets?
Shortly after your booking is complete, you will receive an e-ticket by email. Just print out your ticket and bring it with you to the theater.

Who is the musical suitable for?
Les Misérables is a musical for people of all ages, young and adults alike, however, it is recommended from age 10 and up.

How long is the musical?
Les Misérables lasts 2 hours and 50 minutes, including intermission.

Who's the team behind?
Les Misérables is produced by Cameron Mackintosh. Claude-Michel Schönberg is the book co-writer and the composer of both Les Misérables and Miss Saigon, all in collaboration with Alain Boublil.

Important information:
- When booking tickets for a musical in New York you will always be granted best seats available at the time of your booking. We have no influence on the exact seat and row number, as it is solely the theater that can appoint the seats. Within 36 hours after you have received your first booking confirmation, you'll receive an additional confirmation with your exact seats. These cannot be changed or altered as they were the best available seats at the time of your booking.
Fantastic
5.0
Result from 1 customer reviews
Amazing
The best musical Ever