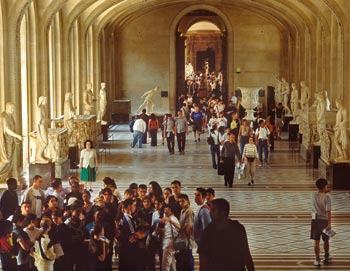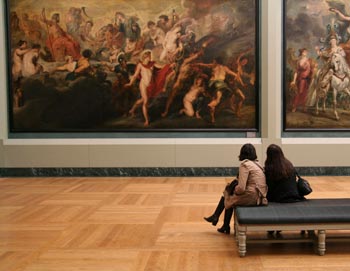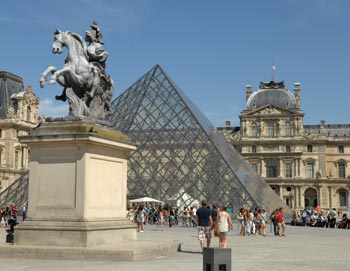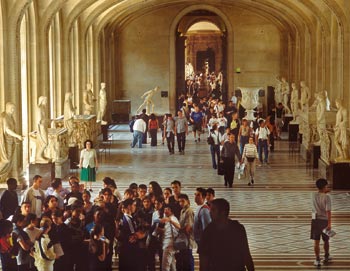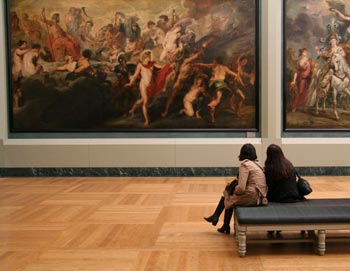 Louvre Museum: Guided tour - 2,5 hours
The Louvre Museum is one of the world's largest museums and an absolute must-see when visiting Paris. Book your guided tour to the world-renowned art museum and avoid the massive lines to get in!

Highlights:
- Get a guided tour of the world-famous Louvre Museum
- Skip the line to the museum and quickly start your tour
- Learn about some of the world's greatest masterpieces
- Explore the museum further on your own after your guided tour
- Access to the temporary exhibitions

Visit the World-Renowned Louvre Museum
The tour starts by exploring parts of the Tuileries gardens, and then entering the Louvre museum where your guided visit is focused on three of the most famous works in the world Venus de Milo, perhaps the most important ancient Greek sculpture, the Winged Victory of Samothrace and of course the Mona Lisa painted by Leonardo da Vinci at the beginning of the 16th century.

Your entrance tickets also offer access to all the temporary exhibitions (except Napoleon Hall) as well as the Eugene Delacroix museum on the same day.

The tour is operated in English.
How do I get my tickets?
Shortly after your booking is complete your e-ticket will be send directly to your email address entered at time of booking, just print it out and bring it with you to our agent PARISCityVISION.
Where does the tour start?
The tour starts at the PARISCityVISION office. The exact address will be on your e-ticket.

Where does the tour end?
The tour ends at the Louvre Museum.

How long is the tour?
The guided tour of the Louvre Museum lasts 2½ hour plus however long you wish to spend exploring the museum on your own.

May I stay after my tour?
Yes, you are welcome to stay at the Louvre Museum after your tour has ended to further explore the museum on your own.
Opening hours
This tour departs various times per day. Please check calendar.
Book now
Very Good:
3.9
– 11

reviews
Change date free of charge Change date free of charge
You can now change your booked date free of charge! Simply use the form under Contact Us or send us an email to let us know the new date no later than 5 days before your booked date
Refundable tickets Refundable tickets
Refundable up to 48 hours before performance date. A cancellation fee of up to 20% pr. ticket may apply
Running Time: 2 hours 30 minutes
Opening hours
This tour departs various times per day. Please check calendar.
What's included?
- Skip the line-ticket to the Louvre Museum.
- A guided tour of the museum.


Directions
Louvre Museum Guided Tour
Address
LOUVRE MUSEUM Arc du Carrousel 75001 Paris
English helpdesk

(855) 325-0977
Need help with your booking? We will gladly answer your questions.