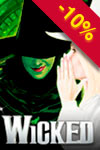 Wicked - London
Apollo Victoria Theatre
Price from $ 33.40
Experience the wonder of Wicked as it celebrates more than a decade of captivating audiences of all ages on London's West End. Be enchanted by Wicked's dazzling sets, costumes, and choreography, show-stopping score, and riveting story of two famous young witches. If you think you know the story of the Wicked Witch of the West, think again...
Highlights:
- Be mesmerized by the dazzling special effects and showstopping songs of Wicked
- Enjoy a musical for the entire family (recommended for children from 7 & up)
- See this backstory behind the Wizard of Oz
- Book your tickets from home to this popular musical
- Choose from a range of prices for every budget
- Be sure to see at least one West End show while in London

What is Wicked about?
Wicked the Musical is based on the acclaimed novel by Gregory Maguire that re-imagined the stories and characters created by L. Frank Baum in 'The Wonderful Wizard of Oz'. Wicked is the incredible untold story of an unlikely friendship between two girls, who first meet as sorcery students.

Their extraordinary adventures in Oz will ultimately see them fulfill their destinies as Glinda The Good, and Elphaba, the Wicked Witch of the West. Packed with thrilling technical wizardry, dazzling costumes, an ingenious and witty story and show-stopping songs, Wicked is an unforgettable, enchanting experience that is not to be missed.

The musical has cast its spell over audiences of all ages across the world for a decade, and it continues to be a record-breaking hit at London's Apollo Victoria Theatre, where it has become the 10th longest-running West End musical of all time.

'One of the most popular West End musicals ever'. (Evening Standard)
'The perfect choice for a spellbinding night out.' (Daily Mail)

How do I get my tickets?
Soon after your booking is complete, you will receive your e-tickets at the email address entered at time of booking. Please print out your ticket and bring it with you to the theater.

Who is the musical suitable for?
Wicked is a musical for all ages, but it is recommended for children ages seven and up. Children under three will not be admitted to the theater. Children under the age of 16 must be accompanied by an adult during the performance.

How long is the musical?
Wicked the Musical runs approximately two hours and 50 minutes, including intermission.

Who's the genius behind the show?
Wicked is based on the novel by Gregory Maguire, has music and lyrics by multi-Grammy and Academy Award-winner Stephen Schwartz, and has been adapted to the stage by Winnie Holzman. The production is directed by Joe Mantello.
Wicked - London Reviews
"Eight years in the West End would tire some musicals, but it's only matured Wicked into one of the country's strongest and most enduringly popular shows. Enlightening, hilarious, heartbreaking and suitably magical – if you haven't seen it yet, do"
Harper's Bazaar
---
"We must all be off to see this Wicked and wonderful vision of Oz"
Evening Standard
---
"The hit musical with brains, heart and courage"
The Sunday Telegraph
---
"Prepare for a riot of colour, drama, magic and fun in this spellbinding show"
OfficialLondonTheatre.com
---
"A thrilling theatrical experience with brains, heart and courage"
Metro
---
Wicked - London Press release
Gina Beck and Matt Willis to join West End hit musical Wicked from Monday 12 December 2011 Desmond Barrit returns to play 'the wizard' Wicked, the smash hit musical that tells the untold story of ...
Read more