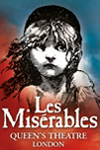 Les Miserables - London
Queen's Theatre
Price from $ 40.30
Experience the legendary musical Les
Misérables on London's West End and enjoy a thrilling performance you'll never forget. Hear your favorite songs 'I Dreamed a Dream,' 'Bring Him Home,' and more, and see the stunning visuals in a grand production

based on Victor Hugo's monumental tale of passion, sacrifice, and redemption

.
Highlights:
- Book your tickets from home for this world-famous musical that continues to sell out
- Experience the iconic musical seen by over 70 million people worldwide
- See why Newsweek called Les Misérables "The Show of Shows"
- Choose your own seats
What is Les Misérables about?
Set against the backdrop of 19th century France, Victor Hugo's Les Misérables tells a riveting tale of broken dreams and unrequited love, passion, sacrifice, and redemption in a timeless testament to the survival of the human spirit.
Ex-convict Jean Valjean is hunted for decades by the ruthless policeman Javert after he breaks parole. When Valjean agrees to care for factory worker Fantine's young daughter, Cosette, their lives change forever.
Featuring the songs 'I Dreamed A Dream', 'Bring Him Home', 'One Day More' and 'On My Own', Les Misérables is the winner of eight Tony Awards and has been seen by over 70 million people worldwide
.
How do I get my tickets?
Soon after your order is complete, you will receive an e-ticket sent to the email address entered at time of booking. Please print out your ticket and bring it with you to the theater.
Who is the musical suitable for?
Les Misérables is a musical for audiences of all ages. It is recommended for children from age seven and up but children over three are permitted with a ticket. However, please note that if children become restless theater management may ask you to leave the theater.
How long is the musical?
Les Misérables runs approximately three hours, including intermission.
Who is the creative team behind the show?
Les Misérables is produced by Cameron Mackintosh. Claude-Michel Schönberg is the book co-writer and the composer of both Les Misérables and Miss Saigon, all in collaboration with Alain Boublil.
Fantastic
5.0
Result from 2 customer reviews
A classic!
Just back from London and had the pleasure of seeing Les Miserables again. What a show! A classic! Certainly worth going to see it again. While I've seen it about 14 times performed by various theatre companies big and small, there's just something special about going to see it in London.
Les Miserables
I have seen this show 13 times now, in London, the most but also in NY, and Washington DC. It has never failed to thrill me, make me cry, and make me smile. As a Brit who lives in the US, I must admit that the London Experiences have always been the best. I am looking forward to the movie next, Hugh Jackman, Russell Crowe both talented singers and performers. I love the fact that Colm Wilkinson will also be in the movie.
Les Misérables Reviews
"For sheer musical theatre spectacle and an emotional roller coaster, it quite rightly remains the best show in town"
The Stage
---