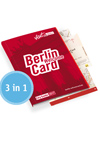 Berlin WelcomeCard
Price from $ 29.40
The Berlin WelcomeCard is a great item to add to any Berlin travel itinerary - it offers unlimited access to public transport (zone AB or ABC) and large discounts on over 200 museums, guided tours, restaurants, and spa/wellness.

Highlights:
- Enjoy unlimited use of public transportation
- Choose the card that makes the most sense for you - 48/72 hrs or 4-6 days
- Travel inside zone Berlin (AB) or Berlin+Potsdam (ABC)
- Travel from the airport with the ABC card
- Enjoy a 25-50% discount at over 200 museums, attractions, & restaurants
- Get a handy pocket guide & pull-out city map of Berlin + Potsdam
- Enjoy free tours and entry to attractions (included)

Unlimited Travel with the Berlin WelcomeCard
You can choose between a 48-hour, 72-hour, 4, 5 or 6 day Berlin Welcome Card or the Museum Island 72-hour Berlin WelcomeCard for either Berlin (zone AB) or Berlin and Potsdam (zone ABC) with the S+U-Bahn, bus, tram, and local trains.

You also receive a free informative brochure, available in 5 languages (English, German, Italian, Spanish & French).

How do I get my tickets?
Shortly after your order is complete your e-ticket will be sent directly to your email address entered at time of booking. Just print it out and bring it to any of the several Visit Berlin offices located around Berlin and at the airport, where you exchange it for your Berlin WelcomeCard.

See where the Visit Berlin offices are here.

Is the card valid for calendar days or consecutive hours?
The card is valid from the time you activate it and then for x consecutive hours, 48 hours, 72 hours etc.

Where can I find a map of the travel zones?
You can see a map of the zones "Berlin Zone Map" href="https://media.intranet.ticmate.com/resources/ticmate_live/upload/Visite-Berlin.jpg" target="_blank">here

Which card would I need to travel to/from the airport?
In order to travel to/from the airport, you need a Berlin WelcomeCard valid for zones ABC.

What's included in the Museum Island WelcomeCard?
Museum Island WelcomeCards also include free admission to all museums on the Museum Island (Museumsinsel) throughout three consecutive days. Some special exhibitions are excluded.

Where do I find information about the free tours, entries and discounts?
You can find all relevant information about the free tours, where you get free entry and discounts etc. here.

Is there a child's Berlin WelcomeCard?
All Berlin WelcomeCards allow an adult to bring any number of children up to 6 years of age, and up to a maximum of 3 children up to and including 14 years of age free of charge.