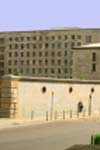 Third Reich Bike Tour
Price from $ 34.70
Our Third Reich Tour of Berlin explores Berlin – once the Capital of Nazi Germany. You will among other sights see the former Jewish Quarter of Berlin, location of the Nazi Bunkers and Nazi resistance monuments. Book your tour tickets here!

Our Third Reich Bike Tour is a very "green" tour with much of the riding through parks. We relaxingly cover about 14km (8 miles) in about 5 hours. By the end of the tour you will understand the circumstances that allowed a maniac like Hitler to achieve power in Berlin in 1933.

During the Bike sightseeing tour you will learn about and see highlights like:
Where Jewish businesses were destroyed during the infamous Night of Broken Glass , as well as the monumental New Synagogue that survived that fateful night.
See the destroyed remnants of the Kaiser Wilhelm Memorial Church and Berlin's old main train station, both of which stand as grim reminders to the damages of war.
Visiting one of the few remaining air raid shelters , used under the battle of Berlin!
Honoring the resistance movements against the Third Reich at the July 20th 1944 Memorial .

We will stop for lunch at a suitable place along the route, hopefully at a typical Berlin Beer Garden. Lunch and drinks for lunch is NOT incl. in the ticket price!

As Berlin is a very big city and also very flat, Berlin is perfect for sightseeing on a bike. So join our Third Reich Tour of Berlin and see Berlin from the best way – on a bike!

IMPORTANT INFORMATIONS:
- All tours are in English
- Duration is approx. 5 hours
- Opening hours: Apr. to Oct.: Wed., Fri. & Sat. at 10:30AM
- Food and drink at the lunch break is not incl. in the price
- The tour operates rain or shine, so please wear clothes according to the weather. You can rent rain ponchos available from the guide for €1 each!
- Children must be able to bike their own bike to participate on this tour!
- Third Reich Tour of Berlin starts and ends at the TV Tower on Alexanderplatz in Berlin.