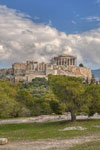 Athens Walking Tour w. Acropolis
Price from $ 49.50
Experience Athens on foot with this 3-hour walking tour! Walk among Athen's incredible sights like the Acropolis, the Temple of Zeus, the Parthenon and much more!
Highlights:

- Enjoy a 3-hour sightseeing tour in Athens
- Admire the magnificent Acropolis (entrance not included)
- Walk through the National Gardens
- Explore Athen's oldest district, the charming Plaka area
- Visit the Temple of Olympian Zeus
- Experience the Changing of the Guards
Discover Athens

Join us for a walking tour around Athens. Your tour starts with experiencing the changing of the Guard in front of the main Parliament building on Syntagma Square.

Next you'll walk through the National Gardens to the Temple of Olympian Zeus, Hadrian's Arch and the Old Plaka district. Then you will visit the Acropolis (entrance is not included) where you will see the gateway Propylea, the Temple of Nike, and of course the Parthenon itself.

From the top of Acropolis hill, there are stunning views of the city of Athens, including the Agora, the Observatory, Democracy hill, Philopappos Hill and Mars Hill.

You can also see the theatre of Dionysos and the Odeion of Herodus Atticus where ancient Greek dramas was first staged.

How do I get my tickets?
Shortly after your booking is complete your e-ticket will be sent directly to your email, just print it out and bring it on your tour.
Where does the tour begin?
The tour starts in front of the Amalia Hotel close to the Syntagma Square in the center of Athens.

Please be there 15 minutes before your tour starts.

Where does the tour end?
The tour ends at Acropolis Hill.

How long does the tour last?
The tour lasts 3 hours.

Is Acropolis a part of the tour?
Yes, you'll be given a guided tour of the Acropolis as part of the tour, however, the entrance ticket (€12) to the Acropolis is not included in the price of the tour and will be paid directly to your guide.

What language is the tour available in?
The tour is available in English only.
Are there children's tickets?
Yes, children's tickets are available for children between age 4-12. Children under age 4 are free when accompanied by a paying adult.