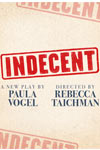 Indecent
Cort Theatre
Price from $ 52.00
From Pulitzer Prize winner Paula Vogel (How I Learned to Drive) comes a provocative new play inspired by a true story.

Indecent follows the incredible journey of a controversial piece of theater and the passionate artists who risked their lives to perform it. Created by Vogel and director Rebecca Taichman (Stage Kiss), this riveting and richly theatrical backstage drama is a celebration of art, a fierce indictment of censorship and a gripping look at an explosive moment in history.

Featuring a seven member ensemble and music performed by an onstage band, Indecent is "superbly realized and remarkably powerful" (The New York Times), and comes to Broadway following a critically acclaimed sold-out Off-Broadway run.