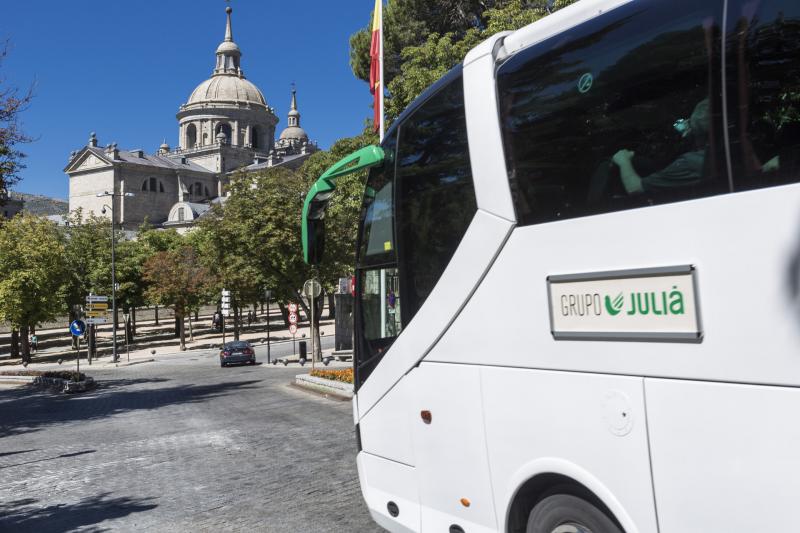 Royal Monastery of El Escorial
The world famous palace, museum and monastery El Escorial is only located about 45 km from Madrid, and is absolutely worth a visit. Tickets for El Escorial can be booked here!

The first part of this tour is visiting El Escorial located only 45 km from Madrid. El Escorial (Real Monasterio de El Escorial ) is declared Human Heritage, and is a symbol of the Spanish Power in the sixteen century and commemorates the San Quentin's Battle. It is also a mausoleum for Charles V. Due to the symmetry and balance of the construction, it was considered the eighth wonder of the world for a long period of time.
The visit to El Escorial includes the Hapsburgs Palace , the Kings and Princes Mausoleum , the Chapter Houses , the Architecture Room , the Weapons Room , the Library and the Basilica .

After El Escorial we drive the 9 km. to Basilica of the Valley (Basilica Del Valle ), an enormous monument built between 1940 and 1959! The Basilica is carved into the mountain at 1350 metres of altitude, and an impressive 150 metres high cross places itself over the magnificent nature reserve of Madrid mountain range. Our guide will tell you all about this place, from the outside of the Basilica, and hereafter you will have time on your own to admire the wonderful views of the Sierra de Madrid.
NB : The visit at Basilica of the Valley may be cancelled on short notice due to bad weather or if a service take place at the Basilica.

Important information:
- The tour will be guided in English!
- Duration: Approx. 5 hours.
- The ticket is ONLY valid on the booked day.
- Every day at 08:45AM. No tour on mondays!
- Please arrive 15 minutes before the tour starts.
- Children are from 6 to 15 years old.
- Children under 6 years old are free of charge.
- There will be some walking on this tour, so wear appropriate shoes.
- Tour of Royal Monastery of El Escorial starts and ends at Julia Travel – Gray Line Spain.
Directions
Royal Monastery of El Escorial
Address
Julia Travel – Gray Line Spain, Calle San Nicolàs 15 28013 Madrid, España
English helpdesk

(855) 325-0977
Need help with your booking? We will gladly answer your questions.