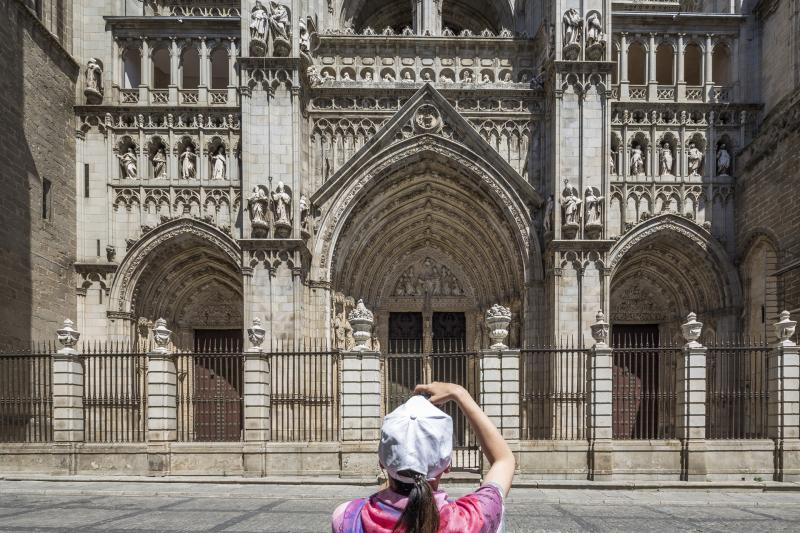 Toledo and Madrid Sightseeing
Why not enjoy both the incredible city of Toledo and a full sightseeing of Madrid – on the same day. This can now be done by booking our Toledo and Sightseeing Tour!
The tour starts with a visit at
Toledo
, appointed "World Heritage City" by UNESCO located 70km away from Madrid. When we arrive in Toledo, you will be in one of the oldest towns in Europe, also called "city of the three cultures", since Christians, Muslims and Jews lived together for many centuries. In Toledo the great painter
El Greco
lived in the sixteen century.
At Toledo you will see the following:
*
Outside view of the Cathedral;
Church of St. Tomé
with "El Entierro del señor de Orgaz", masterpiece of El Greco
*
Synagogue of Sct. María la Blanca
*Museum of Victorio Macho
*Monastery of San Juan de los Reyes
*Panoramic sightseeing of Toledo
.
After our beautiful visit at Toledo we will drive back to Madrid and join a full
Sightseeing Tour of Madrid
incl. sights and Madrid monuments like;
Calle Mayor
,
Plaza Mayor
,
Plaza de la Villa
,
the Royal Palace
,
Prado Museum
,
Gran Vía
,
Paseo de la Castellana
,
Barrio Salamanca
,
Plaza de Castilla
etc.
All in all you will see and enjoy the best of two of the most beautiful cities of Spain and the world!
Important information:
- The tour will be guided in English and can be operated in Spanish at the same time!
- Duration: Approx. 7½ hours.
- The ticket is ONLY valid on the booked day.
- Every day at 08:45AM.
- Please arrive 15 minutes before show or dinner.
- Children are from 6 to 15 years old.
- Children under 6 years old are free of charge.
- There will be some walking on this tour, so wear appropriate shoes.
- Toledo and Madrid Sightseeing Tour starts and ends at Julia Travel – Gray Line Spain.
Book now
Very Good:
4.0
– 1

reviews
Running Time: 7 hours 30 minutes
Directions
Toledo and Madrid Sightseeing
Address
Julia Travel – Gray Line Spain, Calle San Nicolàs 15 28013 Madrid, España
English helpdesk

(855) 325-0977
Need help with your booking? We will gladly answer your questions.