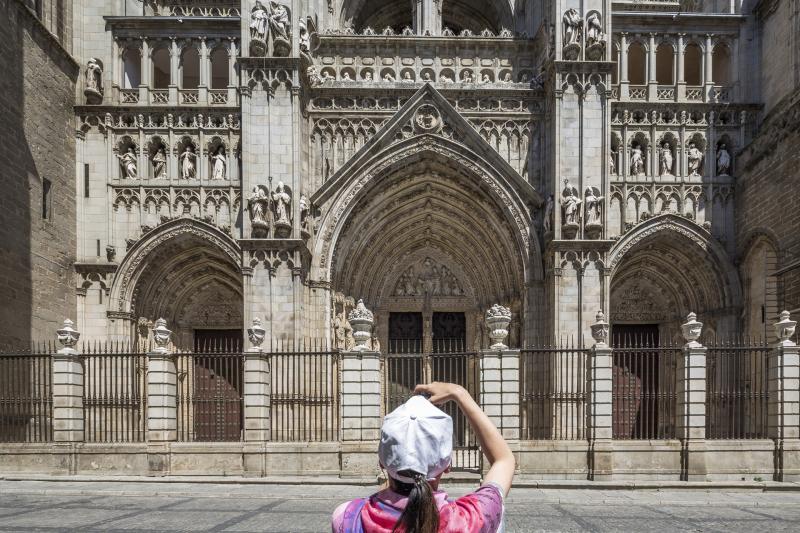 Toledo Full Day Tour
Why not join us on this Full day tour to Toledo, one of the most beautiful cities of the world. On this full guided tour you will see and learn all about the city of Toledo!
The beautiful imperial city-museum of
Toledo
, appointed "World Heritage City" by
UNESCO
is only located 70km away from Madrid. The bus tour to and from Madrid is not that long and is actually a very beautiful tour.
When we arrive in Toledo, you will be in one of the oldest towns in Europe, also called "city of the three cultures", since Christians, Muslims and Jews lived together for many centuries. Toledo is full of genuine Spanish buildings but you can really see the city's long history and all kind of the periods and style(Arab, Jewish, Gothic, Mudejar, Renaissance and Baroque) in the buildings and all over Toledo. In Toledo the great painter
El Greco
lived in the sixteen century.
At Toledo you will see the following:
*
Outside view of the
Cathedral
;
Church of St. Tomé
with "El Entierro del señor de Orgaz", masterpiece of El Greco
*Alcazar de Toledo
, a fortified symbolic building, located in the upper zone of the city of Toledo, hosting the Army Museum and the Library of Castilla-La Mancha(On wed. tours Alcazar de Toledo is closed and "the Mezquita del Cristo de La Luz" will be visited instead.
*Synagogue of Sct. María la Blanca
*Museum of Victorio Macho
*Monastery of San Juan de los Reyes
*Panoramic sightseeing of Toledo
.
Tickets for this tour can be booked:
-Without Lunch –
Ticket only!
-With
Tourist Lunch
(Stew, Veal with vegetable and French fries and ice cream) No drinks are included.
-With
Typical Lunch
(Appertizers, Tapas, Lamb with vegetable, truffle cake and Icecream). Wine, mineral water and coffee is incl. in Typical Lunch.
Important information:
- The tour will be guided in English and can be operated in Spanish at the same time!
- Duration: Approx. 8 hours.
- The ticket is ONLY valid on the booked day.
- Every day at 09:00AM. No tours Wed. & Fri. during Winter.
- Please arrive 15 minutes before show or lunch.
- Children are from 6 to 15 years old.
- Children under 6 years old are free of charge (No meals and consumtions included).
- There will be some walking on this tour, so wear appropriate shoes.
- Toledo Full Day Tour starts and ends at Julia Travel – Gray Line Spain.
Opening hours
Every day at 09:00AM. No tour Wed. & Fri. during winter!
Book now
Fantastic:
5.0
– 3

reviews
Opening hours
Every day at 09:00AM. No tour Wed. & Fri. during winter!
Directions
Toledo Full Day Tour
Address
Julia Travel – Gray Line Spain, Calle San Nicolàs 15, 28013 Madrid, España.
English helpdesk

(855) 325-0977
Need help with your booking? We will gladly answer your questions.