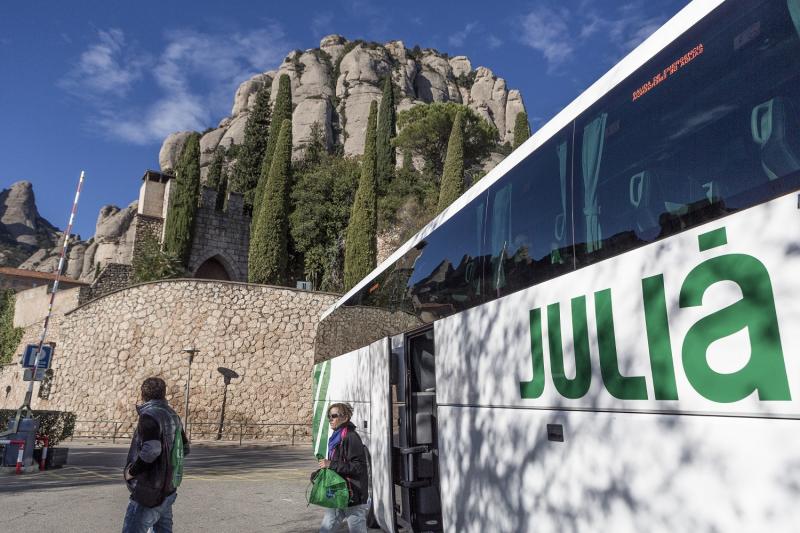 Montserrat Tour
The tour to
Montserrat
will start with a drive through picturesque little villages as we make our way to the incomparable settings of the mountain of Montserrat. We will then visit the
Royal Basilica of Montserrat
, home of the famous Romanesque carving of the
Black Virgin
. According to legend, the image of the Lady of Montserrat was found in a cave in the year 880. The Romanesque church was built in honor of the Lady of Montserrat.
See one of the most important pilgrimage sites in Spain, visited by the faithful all over the world for hundreds of years.
Important information
:
- The Tour is in English and another language!
- Duration: 4½ - 5 hours.
- Tour to Montserrat is on daily!
- Price is
incl
. a Visit to the Royal Basilica and all transportation.
- Price is excl. Lunch and drinks.
- Please arrive 15 minutes before departure time.
- Montserrat afternoon tour includes Cog-Wheel Train (one way).
- The tour includes a taste of 4 typical liquors, handmade by the monks of the monastery.
- The tour includes entrance to the audiovisual exhibition in Montserrat "Espai Audiovisual Montserrat" is included.The exhibition is based on three fundamental pillars: mountain, monastery and
sanctuary. It explains to its visitors the history, natural creation and significance of this pilgrimage site.
- Correct dress code is requested to enter the Basilica at Montserrat. It is not permitted to enter with tank tops, strapless shirts, short shorts or sandals.
- At Montserrat there is a mountains climate, depending on the season you will need clothes protecting you from the rain and/or cold.
- There will be some walking on this tour, so wear appropriate shoes.
- Children are counted as from 4 to 12 years old.
- Children under 4 years old are free of charge.
- There will be some walking on this tour, so please wear appropriate footwear.
Directions
Montserrat Tour
Address
Julia Travel Calle Balmes 5, 08007 Barcelona
English helpdesk

(855) 325-0977
Need help with your booking? We will gladly answer your questions.