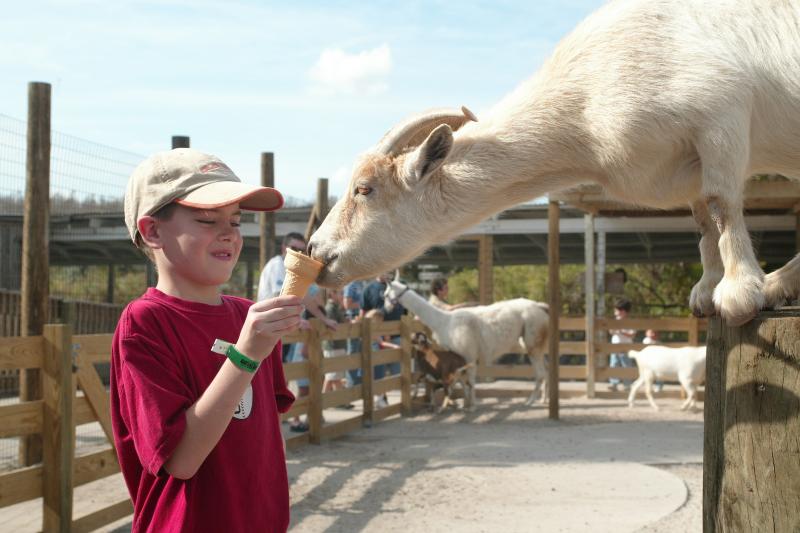 Gatorland
Visit Gatorland and learn more about the number one resident of Florida - the alligator! Gatorland is home to over 4,000 alligators, as well as snakes and other exotic animals. Watch the Gator Wrestling Show or the
Gator Jumparoo Show.
Highlights:
- Visit the fun and amazing Gatorland
- Experience Floridas #1 resident up close
- Stop by the petting zoo
- Watch the Gator Wrestling Show
- See the alligators jump in the Gator Jumparoo Show
Visit Florida's No. 1 Resident
Gatorland offers a broad variety of exhibits to see, including the Gator Jumparoo Show. Experience the thrills and chills abound as some of the largest alligators in the world actually jump up to 1.5 meters out of the water to retrieve food in this famous one-of-a-kind show.
You can also see the Alligator Wrestling Show in a shaded 800-seat stadium. Gator wranglers catch a 6 to 8-foot alligator by hand and climb onto the snapping animals back to point out survival features to the audience. After doing stunts that only few are brave (or foolish) enough to try, the alligator is rolled over and put to sleep...only to be awakened by a tickle!


Would you like even more excitement, then our
tour to Gatorland including a zip-line adventure
might be just what you're looking for!
How do I get my tickets?
Shortly after your booking is complete your e-ticket will be sent directly to your email, just print it out and bring it with you to Gatorland.
Are there children's tickets?
Yes, children's tickets are available for children between age 3-12 years. Children under age 3 are free when accompanied by a paying adult.
Directions
Gatorland
Address
14501 S Orange Blossom Tr, Orlando, FL 32837
English helpdesk

(855) 325-0977
Need help with your booking? We will gladly answer your questions.