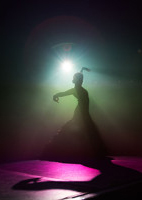 Zik'r
Peacock Theatre
Price from $ 65.00
ZIK'R returns to London having toured India, Morrocco, France, Edinburgh in 2015. A magical and alchemical journey ZIK'R offers a path towards the divine through dance and music.

Highlights:
- Ensure your tickets now
- Get your tickets sent directly to your inbox
- Choose your own seats in your chosen seating section

An exciting, moving and beautiful show, ZIK'R has been created by celebrated musician and producer Youth (Killing Joke, Pink Floyd), the artist Fabrice Hyber, together with the acclaimed flamenco dancer and singer-songwriter Karen Ruimy.

The narrative of the show follows a story of exile, passion and survival while the music tells a tale of separation paid and the agony of the soul. The central theme of the show follows the ancient tradition of eternal music and follows Flamenco's mystical journey from India to Spain.


How do I get my tickets?
Shortly after your booking is complete, you will receive an e-ticket by email. Just print out your ticket and bring it with you to the theater.