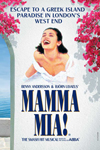 Mamma Mia! Until 1st September
Prince of Wales Theatre
Price from $ 82.40
Mamma Mia the musical in London theatre with songs by ABBA. Buy your tickets for Mamma Mia at the Prince of Wales Theatre in London here!

ABBA's timeless songs tell the story of love, laughter and friendship! Mamma Mia is London's phenomenal smash-hit musical. While ABBA provides the music, we provide you with great tickets to see Mamma Mia at the Prince of Wales Theatre.

More than 45 million people in over 175 cities all over the world have fallen in love with the characters, the story and, last but not least, with ABBA's unforgettable music that makes up the show Mamma Mia, the ultimate 'feel-good-popsical'!

Scriptwriter Catherine Johnson's sunny, funny story takes place on a Greek paradise island. A young girl's search for her father's identity on her wedding night leads to three men from her mother's past returning to the island, which they last visited 20 years previously. The sheer magic of telling the story of love, laughter and friendship through ABBA's timeless songs is pure genius and night after night everyone has the time of their life!

Mamma Mia features 27 of ABBA's best known tracks including 'Dancing Queen', 'Knowing Me Knowing You', 'Super Trouper' and 'Mamma Mia!'

Mamma Mia appears in more international venues than any other musical, and is the world's leading musical. Mamma Mia is now more popular than ever since the film Mamma Mia - The Movie premiered in the summer of 2008 - Mamma Mia is quite simply one long, continuous success story!

NB: From SEPTEMBER 2012 MAMMA MIA! will move to NEVELLO THEATRE. Tickets from Sep. 2012 can be booked HERE!
Mamma Mia! Until 1st September Reviews
"A GLORIOUS EVENING OF FUN!"
Daily Mail
---
"AN IRRESISTIBLY ENJOYABLE HIT! SHEER HEAVEN!"
Daily Telegraph
---
"INFECTIOUS THEATRICAL ENTERTAINMENT!"
Financial Times
---
Mamma Mia! Until 1st September Press release
Night after night, audiences are having the time of their lives at MAMMA MIA!. Catherine Johnson's sunny, funny story of love, laughter and friendship has been thrilling London audiences for over 10 years. More recently ...
Read more