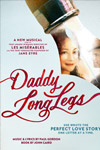 Daddy Long Legs
Davenport Theatre
Price from $ 67.60
From the Tony-Award winning director of Les Misérables comes the intimate new musical Daddy Long Legs based on the classic novel by Jean Webster which inspired the 1955 movie by the same name starring Fred Astaire.

Highlights:
- Experience the new musical Daddy Long Legs
- Get the best seats available in your chosen category
- Enjoy the amazing score
- See a musical for the whole family

Enjoy Daddy Long Legs on Broadway
Daddy Long Legs is a beloved tale in the spirit of Jane Austen, The Brontë Sisters, and Downton Abbey. This heartwarming Cinderella story about a witty and charming young woman and her mysterious benefactor has charmed audiences of all ages from Los Angeles to London.

"A great treat! Sweet and beautifully sung." - The New York Times

"An enchanting new musical with an exquisite score. Daddy Long Legs is an absolute charmer that's perfect for date night and suitable for the whole family." - BroadwayWorld

How do I get my tickets?
Shortly after your booking is complete, you will receive an e-ticket by email. Just print out your ticket and bring it with you to the theater.