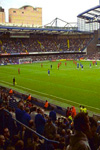 Chelsea FC - Fulham
MON, 28 DEC 2009 or TUE, 29 DEC 2009, Stamford Bridge
Price from $ 274.20
Info
* The final match date and kick-off time is confirmed 5-30 days prior to match day. The best way to verify the final date and time is to check the official club website.
* Weekend matches are always played Saturday or Sunday and on rare occations Friday evening.
* Weekday matches are always played on Tuesday, Wednesday or Thursday.
* Changes within the time frames noted above are wholly beyond our control and we ask that you always take into consideration these possible changes when making your travel plans.
* We will NEVER assign single seats to our customers. We will ensure that your seats are assigned together with your party - acceptable seating may include seats directly in front or directly behind your party. This is our guarantee from us to you!
* You will always be seated among home supporters or in a neutral zone.
* When you have completed your order a confirmation/receipt and your e-tickets will be immediately sent to your e-mail address entered at time of booking.
* All information regarding ticket collection or delivery of your original match tickets will be clearly stated on your e-ticket.
* You will be asked to present a valid photo ID or passport at time of ticket collection as well as the credit card used to purchase the tickets. Please also bring the credit card used to purchase your tickets.
* We highly recommend that you carefully read our terms and conditions prior to purchasing soccer tickets!


Category
West Stand Tickets includes:
* Upper tier long side seat location
* Superb view of pitch
* Under roof, weather protected
* Conventional paper tickets, supplied together always
* Home and neutral fans welcome
* Perfect for children and families
* Stadium opens 2.5 hours before kick-off
West Stand and Tea Bar Tickets includes:
* Upgraded location in West Stand Upper Tier (long side location, block 2)
* Seat position between halfway line and edge of penalty box
* Tea Bar opens 3 hours prior to kick-off
* Located next door to Mega Store
* Pre-match three-course table service served menu with choice of dishes per course
* Complimentary bar (beer, wine, soft drinks) served with pre-match meal
* Informal relaxed atmosphere, children and families are welcome
* Guaranteed table reservations
* Complimentary match program
* Team sheet
* Betting facilities
* Post match sandwich buffet and tea/coffee served in Tea Bar
* No strict dress code, although football shirts are not permitted

Short Side
* Regular short side seats in AWAY section
* No HOME team colors to be worn!

POWERED BY TRAVEL CONNECTION
Hotel
For Chelsea matches, we do sell West Stand Tickets included 2 nights(Saturday to Monday) or 3 nights(Friday to Monday) in one of the following hotels:

Royal National Hotel(**): Central London's largest hotel with 1630 rooms located near Russel Square. The rooms are basic but include all the necessary amenities. Free WiFi in the lobby. Breakfast is included in the price.

Kensington Close Hotel(****): Perfectly located near the shops of High Street Kensington. The hotel has a beautiful private garden, health club, spa and swimming pool. WiFi in all room(not free). Breakfast is included in the price.

Cumberland Hotel(****): Great hotel perfectly located near Oxford Street and Marble Arch. Cumberland is a modern and artsy hotel. Free WiFi at the hotel and in the rooms. Breakfast is included in the price.

Here you can book Twin rooms or Tripple Rooms.

Sometimes, but very seldom, we are advised that we need to change a hotel after the booking is confirmed. If this happens, we will always confirm a hotel of similar standard as the one you have booked, or better!

Your soccer tickets will be delivered to you when you check in at the hotel!

Like all booking of football tickets, you cannot change nor cancel football and hotel packages after you have confirmed and paid your booking!
Past matches
Chelsea FC vs Fulham, SAT, 21 SEP 2013
Chelsea FC vs Fulham, WED, 28 NOV 2012
Chelsea FC vs Fulham, MON, 26 DEC 2011
Chelsea FC vs Fulham, WED, 10 NOV 2010 or TUE, 09 NOV 2010
Chelsea FC vs Fulham, MON, 28 DEC 2009 or TUE, 29 DEC 2009