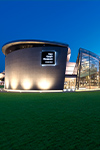 Van Gogh Museum
Price from $ 27.60
The Van Gogh Museum contains the largest collection of paintings by Vincent van Gogh in the world and is truly a unique experience. The world-famous museum is an absolute must see when visiting Amsterdam.

Highlights:
- Skip the line to the Van Gogh Museum
- Enjoy the world's largest Van Gogh collection
- Experience this must-see in Amsterdam

Experience the incredible Van Gogh Museum
The Van Gogh Museum gives you the opportunity to keep track of the artist's developments and to compare his paintings to works by other artists from the 19th century. The museum also holds an extensive offer of exhibitions on various subjects from 19th-century art history.
Vincent Willem van Gogh
(March 30, 1853 – July 29, 1890) was a Dutch painter. He was one of the most significant artists in European History, and his paintings is world famous. Van Gogh painted his approximately 900 paintings and 1100 drawings in around 10 years. After years of painful anxiety and frequent bouts of mental illness he died aged 37 from a gunshot wound, generally accepted to be self-inflicted.
How do I get my tickets?

Shortly after your booking is complete your e-ticket will be sent directly to your email, just print it out and bring it to the museum.
How long is my tickets valid?
Your ticket for Van Gogh Museum is only valid for the day you book for.
What's included in my tickets?
Your ticket includes access all exhibitions at Van Gogh Museum at no extra charge.
Are there children's tickets available?
Children under age 18 enjoy free entry to the Van Gogh Museum when accompanied by a paying adult.
Fantastic
4.5
Result from 2 customer reviews
nothing like it anywhere else for Van Gogh art
If you want to see the largest and best collection of Van Gogh art, then this is where you need to be. With the optional headset, which were easy to use, you can spend hours looking and learning about his art.....I will be back someday I hope as I could not see it all in one trip.
Van Gogh
It is worth the ticket to skip the line! The museum was crowded, the exhibits and art was well displayed.