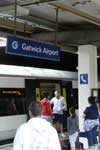 Gatwick Airport Train
Price from $ 13.90
Jump on the Gatwick Thameslink train and get into central London quickly and easily. You can order a round trip or one-way ticket between Gatwick Airport and any of the central London stations with Thameslink.

Highlights:
- Receive your e-tickets directly into your email inbox within 2-3 days
- Skip the line at the ticket machine at the station
- The tickets can be used any day within a month of issue
- Children under 5 years old travel for free
Take the Gatwick Thameslink to London
The journey to London Blackfriars takes approximately 35 minutes and the trip to London St. Pancras takes about an hour.

From Blackfriars, Farringdon and St Pancras you can easily take the tube or grab a cab to your final destination such as Piccadilly Circus, Trafalgar Square, Oxford Circus, Covent Garden, Russell Square, Kensington, Bayswater or Paddington.

How do I book my tickets for the Gatwick Thameslink?
If you book round trip tickets, the return journey back to Gatwick Airport has to be used within 30 days.

You cannot book for today, as all tickets are issued manually, so please allow 2-3 days for your tickets to arrive via email.

How do I get my tickets?
Shortly after your booking is complete, you will receive a confirmation by email. Your train tickets will be emailed to you within 2-3 days.

All train tickets are issued manually, therefore we cannot promise you will receive the tickets the same day as you order, it might take a few days. However, we promise you will receive your tickets before you leave home, and if you book close to the departure date, your tickets will be processed with priority.

Are there child rates for the Gatwick Thameslink?
Yes, child rates are available for children between the ages of 5-15 for the Gatwick Thameslink. Children under age 5 travel free when accompanied by a paying adult (maximum 4 children can travel free for each adult).

Important information:
- Please note: You must fill in first travel date on the ticket we send you. For example, if you travel from Gatwick Airport the 15th of June 2017, you must write '15th of June 2017' on your ticket.
- Please note: It is your responsibility to check the train timetable before your journey, especially the train times to and from the airport for flights that arrive or depart very early in the morning or late at night, or in case there is a limited service due to maintenance work, etc.
- We are not able to refund (either partial or in full) for tickets that cannot be used if the train timetable does not fit in with your scheduled flight arrival or departure time. If trains are cancelled due to maintenance work etc. then there will always be a replacement bus service offered.
- A ticket for this Gatwick airport train (Thameslink) is not valid on the Gatwick Express.
- On bank holidays, the Gatwick Thameslink will not run as frequently as normal, and on December 25 the Gatwick Thameslink does not run.
Maintenance work until January 2018:
Extensive maintenance and line update works are scheduled from now until at least January 2018. Departure suspensions and reduction of services per hour might occur, mostly during nights and sometime weekends. If a service is not operating for longer periods, a replacement bus service will be in place. Please account for extra time mostly on your way to the airport.

Staff are available at the stations to help you, so please ask them if you have any questions.
Fantastic
4.5
Result from 2 customer reviews
efficient and fast
Getting off the airplane and into London was efficient and smooth using this train. The only problem I had was to figure out that the ticket lets you in directly to the platform: you just have to present the ticket to the guard. At first i thought it was a voucher one had to use to redeem an actual ticket; indeed mine was just a print-out, whereaseveryone was scanning their ticket. I am glad i asked the guard who let me in.
Gatwick Train Thameslink
Great way to get to London from Gatwick! In one hour we were at the St. Pancras Station, just a 10 minute walk from our flat in Cartwright Gardens, in Bloomsbury. From St. Pancras International, you can catch a train to Paris or Brussels. And from King's Cross station, which is right beside St. Pancras, you can catch a train to anywhere in the UK
Bloomsbury contains the University of London and University College London, and is the cultural centre of central London.