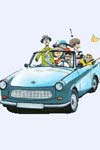 Trabi Safari Berlin
Price from $ 57.60
See Berlin from a Trabant on one of our Trabi Safari Tours is real fun. We offer 3 Berlin Trabi Tours; The Wall Ride, City West Berlin or Wild East Tour. Book tickets for Berlin Trabi Safari Tours here!

THE WALL RIDE:
Drive along the locations where The Berlin Wall divided Berlin in two and also see the famous places where Berlin got unified in 1989! In a convoy your steer your vehicle along the relicts of Marxism and Leninism to the East Side Gallery(incl. a stop for tea with bread and salt), explore the death strip and pass the rigorous document inspection at Checkpoint Charlie as in "the good old days", just as it has happened as a part of everyday live in the divided city.

The Wall Ride is a tour of 2 hours and starts at 01:00PM

THE CITY WEST RIDE:
The Classic Berlin Trabi Safari is the tour for you who like to get a a balanced information mix of Berlin. The Classic tour takes you to such Berlin highlights as: Potsdamer Platz, KaDeWe, Straße des 17. Juni, Brandenburger Tor, Unter den Linden and Checkpoint Charlie, see map of Tour HERE!

The Classic Ride is a tour of 1 hour and starts at 10:00AM, 11:30AM, 03:30PM & 05:00PM

THE WILD EAST RIDE:
This Trabi ride is for those of you who like to see Berlin off the tourist beaten path. Here you will get some insider knowledge of the city, not all knows, and most of this tour is through the former east part of Berlin and incl. highlights such as: Checkpoint Charlie, Television Tower, Alexanderplatz, Unter den Linden, Brandenburger Tor, Holocaust Memorial and Postdamer Platz, see map of tour HERE!

The Classic Ride is a tour of 1 hour and starts at 10:00AM, 11:30AM, 03:30PM & 05:00PM

IMPORTANT INFORMATION:
- Prices are per person - not per car.
- All tour is in English!
- You must be minimum 2 persons when booking any Trabi Safari Tours. You cannot book for only for 1 person!
- As all the Trabi Safari Tours is self-drive tours, one of you needs to have a valid driver license, as one of you most likely will drive the car! If none of you can drive a car, you cannot book these tours!
- If more than one of you like to drive the Trabant, please bring valid driver licenses for ALL who like to drive. You will only be allowed to drive if you have a valid driver license to show at the beginning of the tour.
- You do NOT need an international driver license, a national driver license is fine!
- A Trabant fits 4 persons. So are you 2-4 persons you will get 1 Trabi. If you are more than 4 persons you will get 2 Trabis and so on.
- The price incl. full insurance, with a EUR 300,- deductible self-coverage if an accident happens and it is you, as the drivers, fault
- All Berlin Trabi Safari Tours starts and ends at Trabi Safari / Trabi World, Zimmerstraße 97(At the corner of Wilhelmstraße), 10117 Berlin.