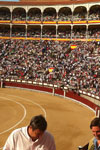 Madrid Sightseeing Tour and Bullfighting
Price from $ 52.10
Bullfighting in Madrid is a must see for all visitors in Madrid. Join our Sightseeing tour of Madrid and visit bullfighting at Las Ventas Madrids famous bullring. Tickets for Sighseeing and bullfighting in Madrid here!

We will begin this tour of Madrid with a city sightseeing tour incl. sights and Madrid monuments like; Calle Mayor , Plaza Mayor , Plaza de la Villa , the Royal Palace , Prado Museum , Gran Vía , Paseo de la Castellana , Barrio Salamanca , Plaza de Castilla etc.

The sightseeing tour ends at Las Ventas , the most important bullring in the world. Here our guide will explain the most relevant characteristics of bullfighting , the great Spanish national holiday event, which is a manifestation of an ancestral culture that has survived until today. Once inside you will attend a bullfighting, where the bravery of bull and bullfighter compete.

At the end of this spectacle, the bus will drop you of near your hotel, if your hotel is in the centre of Madrid.

Important information:
- The Tour is in English!
- Duration: 5 hour.
- The ticket is ONLY valid on the booked day.
- The tour is on Sundays and Bank Holidays from Mar. to Oct. except July.
- Please arrive 15 minutes before departure time.
- Please note this tour is on request, and it will take up to 48 hours to get it confirmed. If confirmed we will complete your booking and at this time we will also confirm the time.
- We cannot give you a start time for this tour before we get your booking confirmed from Madrid. We can only say this tour normally starts between 11:00AM and 03:00PM and the tour last around 5 hours!
- There will be some walking on this tour, so wear appropriate shoes.
- Madrid sightseeing Tour and Bullfighting at Las Ventas starts at Julia Travel – Gray Line Spain and ends near your hotel in the centre of Madrid.