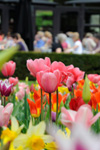 Keukenhof Gardens & Haarlem
Price from $ 141.90
Visit the incredible Keukenhof Gardens: Over 32 hectares covered with more than 7 million blooming tulips, daffodils and hyacinths. This full day, all-inclusive tour gives you a unique experience at Keukenhof, which includes a picnic in the tulip gardens, a special meet and greet with an expert gardener as well as a walking tour through the nearby provincial capital Haarlem.

Highlights:
- A guided tour of Keukenhof Gardens
- Fast-track entry to aviod the long entrance queue
- A delicious lunch in the tulip gardens
- A special meet and greet with an expert gardener
- Free time to explore the beautiful gardens
- A guided walking tour through Haarlem

Dive into Spring in a Sea of Color and Fragrance
The tour departs from Amsterdam and takes you to Keukenhof Gardens. Keukenhof Gardens is one of Holland's most popular attractions and the park is only open for eight weeks during spring, making it a busy spot. Luckily, with our tour you can skip the line and head straight into the blossoming fields. Your guide will take you through the beautiful gardens and introduce you to one of the park's expert gardeners.

Next we'll enjoy a delicious picnic lunch in the tulip gardens (included in the price of the tour). After lunch you'll get some free time to stroll the pathways and explore the gardens on your own.

The last and final stop of the tour is Haarlem (the capital of the province of North Holland). During the drive to Haarlem, we'll pass stunning tulip fields. In Haarlem your guide will take you on a walking tour, while sharing his knowledge about the city's history, gothic architecture and culture.

The tour is available in English, German and Spanish.
How do I get my tickets?
Shortly after your booking is complete your e-ticket will be send directly to your email, just print it out and bring it on your tour.

Where does the tour begin?
The tour starts at the Lindbergh office. Please show up 30 minutes before departure.

How long does the tour last?
The tour lasts 8 hours.
Are there children's tickets?
Yes, children's tickets are available for children between age 4-12. Children from age 0-3 are free, when accompanied by a paying adult.