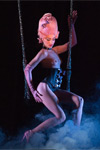 Crazy Horse
Price from $ 124.40
Enjoy a fablulous show at the iconic Crazy Horse in Paris! The incredible show consists of a series of highly aesthetic and visual tableaus presented by the legendary Crazy Horse dancers.

Highlights:
- Enjoy a unique show in Paris
- Be enchanted by the show's sensual style of dance
- Choose between Show & Champagne, Dinner & Show or Show Only

Enjoy a Fablulous Show at Crazy Horse
Crazy Horse Paris is the most iconic of all the Parisian cabarets.
You can choose between three types of tickets: Show & Champagne, Dinner & Show or Show Only.
The Crazy Horse is a genuine Paris style cabaret celebrating the female body. Therefore, you will experience nearly complete nudity and many sensual dances. If you find this offensive please do not book for Crazy Horse.
Enjoy a Dinner Before the Show
If you choose Dinner & Show you'll enjoy a delicious 3-course dinner, ½ bottle of wine, ½ bottle of mineral water and coffee or tea. The menu varies depending on the season.
After the dinner at either restaurant Chez Francis or Fouquet's, you can walk go to The Crazy Horse to enjoy the show. It is a short maximum 10-minute walk.
How do I get my tickets?
Shortly after your booking is complete your e-ticket will be sent directly to your email, just print it out and bring it with you to Crazy Horse.
How long does the show last?
The show lasts 1½ hours.
Which seats should I choose?
You can see the seating plan for The Crazy Horse here. Please note that you cannot book specific seats or tables – just a category. We don't sell Box VIP seats on our site.
Is there a dress code at Crazy House?
Yes, the dress code is casual and business casual. Tie, suits or dress are optional. Jeans, shorts, sneakers are not permitted.
Are children allowed?
The show is not suitable for children.
Fantastic
4.3
Result from 3 customer reviews
Great show
I was reading conflicting reviews about the show but decided to follow the positive minded people and so glad I did. The show is fantastic. Very tastefully done, contemporary and enjoyable. We attended on Saturday and received a complimentary Champaign which was again great touch. Without doubts a fantastic show not to be missed while in Paris.
WE really liked the jugglers!
Well, the show is very professionally done, and the multi-media effects are very good. The girls are beautiful, but what we really like best were the two male jugglers, who undressed and dressed again, all while juggling and passing the juggling pins to each other. Amazing!

Our voucher was honored without question
Alex & Patricia, NY
We made the dinner reservations at Chez Francis through Paris Events tickets and the Crazy Horse show and it was very convenient. Dinner was awesome, the view spectacular, and then close to the show which was fabulous as well!! It was a great night!!!!