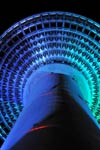 Berlin TV Tower VIP Dinner
Price from $ 93.70
Dinner at the revolving restaurant at the top of the TV Tower in Berlin is a true VIP experience. It is not every day you have the chance to dine at 207 metres!

Highlights:
- Dine at the revolving restaurant in the TV Tower
- Skip the line to the TV Tower and get a personal welcome
- Get seated at your reserved window table
- Enjoy a delicious 2-course meal
- Sip wines specially selected by your sommelier
- Admire the view of Berlin
- See some of the city's major sights from above

Enjoy a VIP dinner at the TV Tower
The TV Tower is located at the very heart of the city on the Alexanderplatz. At 368 metres, it's the highest building in Germany and the second highest building open to the public in Europe.

The observation deck is at a height of 203 metres and includes Berlins highest bar, the 'Panorama bar'. The revolving restaurant is at a height of 207 metres and turns around its own axis once or twice every hour.

As our VIP Dinner guests, you'll be personally welcomed by the TV Tower staff on the ground floor and accompanied to the elevators, skipping the queues after the security check. Your table situated next to the window will be waiting for you as you arrive in the rotating 'Sphere' restaurant.

Included in the VIP Dinner at Berlin TV Tower are:
- Guaranteed window table
- A glass of sparkling wine as an aperitif
- A two-course meal: starter or dessert and main course
- Two glasses of wine
- Unlimited mineral water

How do I get my tickets?
Shortly after your booking is complete your e-ticket will be sent directly to your email, just print it out and bring it with you to the TV Tower.

Please keep the e-ticket, as you will need the e-ticket when leaving the TV Tower, so please keep it safe.

How does it work?
When you arrive at the TV Tower, please hold the bar code imprinted at the top of your e-ticket in front of the scanner and then pass through the turnstile.

Where is the TV Tower located?
You'll find the iconic TV Tower at Alexanderplatz. The address will be on your e-ticket.

What's on the menu?
You can see a sample of the VIP dinner menu here*
You will be given a choice of one starter or one dessert and one main course to choose on the day you visit the TV Tower. The selection includes a vegetarian option.

Is there a dress code for the VIP dinner?
No, there isn't a dress code requirement.

Are there children's tickets?
No, there isn't children tickets for the VIP dinner, everybody pays the same.

*The menu is subject to change!